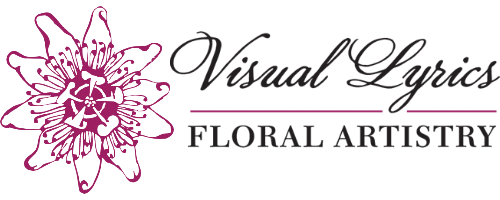 Company Story
Visual Lyrics - "Like Music to Your Eyes"
Vision. Vision is the essence of Visual Lyrics Floral Artistry (VL). With a love of art and nature in bloom since childhood, it was only natural for VL founder Donna Bennett to pursue a career that reflected her innermost desire to share the beauty of the earth with others, as seen through her eyes. When Visual Lyrics was originally started in 1985, the company sold its hand painted clothing and canvas wall murals.

After moving to Texas from Maine, Donna began her destiny in floral art when she started arranging flowers in a professional setting. Working at various flower shops for more than a decade, she often dreamed of the day when she would have the opportunity to fulfill her dream of artistic independence and do exactly what she loved; on her own terms; her own way. In 1999, she did just that and Visual Lyrics Floral Artistry was born.

A family affair, Visual Lyrics Floral Artistry bloomed into existence, offering floral design for weddings, with the help of the whole crew. Donna Bennett, husband John, daughters Trisha and Trina and son Trent all pitched in to get the company off the ground. After 12 years of hard work, blood, sweat and tears, the company has blossomed and the creativity continues to flow, both from Donna and her daughter Trisha, who has followed in her mother's footsteps.

Today, Visual Lyrics Floral Artistry continues to offer unique floral design with an artistic flare to brides throughout central Texas. Native plants and greenery are hand picked and incorporated into floral designs. The company also offers daily delivery services as well as floral arrangements for an array of special events and occasions. Aside from creating floral and natural art, Visual Lyrics Floral Artistry offers its clients hand-made extras to compliment the overall artistic flow of specific designs. Items such as hand painted bridal bouquets on canvas, hand made ribbon flower girl bags and ring bearer pillows, fabric flower bracelets, brooches, hair pins, beaded corsages and hand-painted ornaments are just a few examples of little extras that can be added to any design for an enhanced effect.

For Trisha and Donna, creating live art, inspiring people to enjoy gifts from nature, having family and friends support what they love, sharing special moments in people's lives and working with other artists in the industry are the gifts that keep the company moving forward. It's the joy and love for our beloved clients that inspire our hearts and minds to create floral art that is both our vision and yours.
109 S HWY 183 | Leander, Texas 78641 | Studio: (512) 244-6720

www.VisualLyrics.com
|
www.facebook.com/VisualLyrics
|

This email address is being protected from spambots. You need JavaScript enabled to view it.