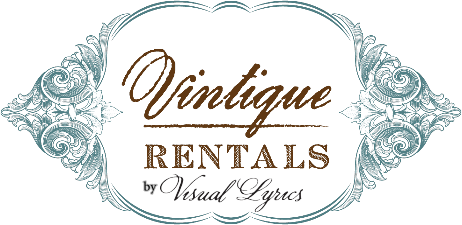 Passion, artistic flair, and a reverence for the beauty of days past are the driving forces behind Vintique Rentals. Trisha Bennett established the brand as a complement to the family's successful wedding design studio, Visual Lyrics Floral Artistry. Matriarch Donna Bennett's love of heirloom-quality pieces and desire to celebrate the gifts of nature through event décor inspire all that they do.
The Vintique team eagerly sources objects that have been cast aside and repurposes them as important ingredients in wedding day festivities. Vintique has a fabulous trove of soulful furnishings and decorative pieces, from sofas and chairs to linens and chandeliers. But beyond the somewhat traditional inventory of unique items, Vintique is regularly commissioned to find specialty items, paint signs, build unusual installations, and sew pillows, runners, and other decorative textiles. The company has garnered national notoriety thanks to the Bennett family's vision and sense of style.
Our inventory includes couches and chairs, tables, tableware and linens, containers, chandeliers and more. Mix and match items from each category to make the perfect antique or vintage scene for your bridal portraits, the ceremony or the Sweetheart table at your wedding, or a lounge or entry for any event. Our inventory is growing and special orders are welcome.
Thank You for Visiting Vintique Rentals!